This outfit has been a labour of
love
...well...just a labour actually! I have been working on it for aaaaaggggggges! The outfit began life as a
By Hand London Holly Jumpsuit
, but it is not really one anymore, I have fiddled again! I should have probably stuck to the pattern and the instructions but I am not very good at that, to my detriment. So this pattern is for an awesome jumpsuit (2 styles), or a pair of trousers (BHL Holly technical drawings below). Aren't they rad?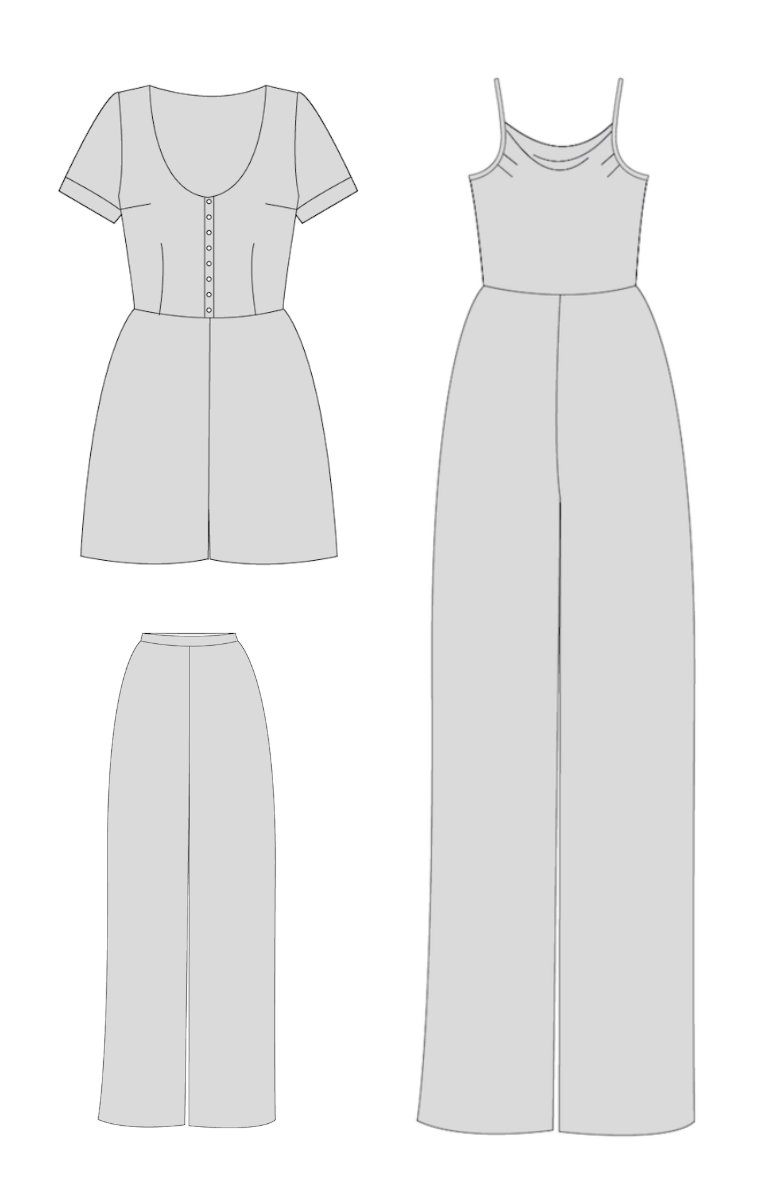 I have ended up with the trousers, minus the waistband but with a self-drafted facing and plackety thingy, and the top half of one of the jumpsuits, without arms or buttons or side zip or most of the darts. See what I mean...I fiddled!
And for me, at least, fiddling takes awhile because I didn't really have a plan and made shit up as I went along. I knew I wanted the trousers, I love me a pair of wide-leg trousers, but given the fact I have had five babies my tummy is a tad, okay a lot, on the wobbly side so I didn't want the waistband. Waistbands tend to dig in and give a bulge/a muffin top.
So I omitted the waistband, drafted a facing instead, and then instead of just adding the invisible zipper I designed an inner plackety thing too! I don't even know what it is called! Do you??
So onto the top half. I originally put all the darts in it, but they just didn't really look right. I wanted a boxier look, which I haven't pulled off as much as I would have liked. But you can see below how it sits away from the body a bit? I left the bust darts in (although i failed to iron them properly, oops, so they are a little obvious!). I think going up a size would have been a good idea to really box it up.
I did have some short sleeves cut out in a brown lace, which I bought at the same time as the main fabric, but it didn't look right...too country or something. So I just over-locked the armholes and turned in and stitched and they sit pretty right, no gape-idge!
I did search high and low for buttons and found some, but they looked a bit twee to be honest. And then I stumbled on a vintage orange metal zipper at a garage sale and I knew it had found a home with our Holly.
But it was waaaay to nice to be shoved on the side so I decided to make Madam Zipper the centre-piece of the outfit instead. So instead of buttons I have a zipper, surrounded by some slightly strange top-stitching because well why not. And this glorious lace. Oh me oh my! So this lace has history. I rescued it from a vintage handmade baby nightie that I was given in a box of handmade clothes and fabric from a friend of a friends grandma (!). The nightie was ripped and stained, but the lace was/is magnificent. I have been waiting for the right project to use it on...
The main fabric is a burnt orange/russet cotton/viscose blend from Tessuti in Sydney. I visited there with my gorgeous sewing pals when we went for
Frocktails
. I do love the colour, it is so warm. The fabric has a lovely drape and is very cool to wear, much like linen. In fact it crinkles like a linen blend would too! It's not too bad though. And ohhh, the colour :)
I will definitely wear this as a
two-piece spectacular
but more likely as separates. I will
instagram
photos of the trousers with a really boxy 80's style crop-top to show you the look I was after. The top would be good as like a little waistcoat over a dress too!
The next Holly I make will closely resemble the technical drawings I promise...Yes there will be a next time. Until then...